Contact

Technological facilities

Castings

copyright©MPJ DesignStudio 2000
TEKCAST spin-casting technology
Page 2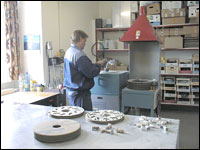 In the spincaster is possible to cast zinc alloys, lead and tin based alloys, white metals (Sn – Sb – Pb), wax or polyurethane. In silicone rubber mould is possible to cast wax patterns for sampling and small lots produced in investment pattern foundries. Final all cost is very low for small quantities by utilization rights of precision casting.
---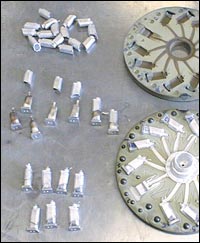 &nbsp&nbsp&nbsp&nbspAll castings are very dimensionally accurate, clean with high guality surface with minimum requirements for machining and they are ready for galvanizing (copper, nickel, gold or patina plating) or painting with powder or wet lacquers.
&nbsp&nbsp&nbsp&nbspThis technology facilitates connecting with other metal part (with steel bush,shaped filling, threaded parts etc.).
&nbsp&nbsp&nbsp&nbspSpin casting technology is very time saving – preparation of moulds is usually made in one day or earlier - and is very cheap too. One mould price fluctuate between 60 up-to 600 USD. Spin casting technolgy is very favourable for small casting lots. They are some orders for 5 up-to 100 pcs produced by one pattern and either way is very efficient and can be used for the production run to 100 000 pcs.